Description
Details
General:
Koyo aluminum racing radiators are designed to be direct factory replacement units. Koyo racing radiator features a much thicker core with a more efficient fin design that helps with flow and temperature drop over the surface.
Koyo is Japans largest aftermarket radiator manufacturer, utilizing the latest aircraft quality aluminum and Heli-arc welded. Heli-arc soldering is the highest quality standard for enforcement along aluminum connections.
We advise you to always check fitment before purchasing. This part is application specific.
Technology:
Koyorad offers different core sizes for different cars. Most common are 36mm, 48mm and 53mm. More info about each core size can be read in our technical section
http://performanceradiators.eu/technology
In general we would advise 36/48mm for street use up to 500BHP and 53mm for professional use on dragstrips, racetracks and drifting, or streetuse for cars with 500+ BHP. This is just a general guideline, each project/car will demand very specific cooling capabilities and we recommend you to verify with your tuner what model is best for your application/goal.
Images:
The images we use on this website are not car/product specific but universal. This means the actual radiator for your car will look different than the pictures you see. So the in/out tubing, sizes, and fillercap position are just shown as example. Of course the actual product you buy will be car specific and have the correct dimensions and positions for the model you selected.
Technical Drawing:
For your convenience we added a technical drawing with positions and dimensions to the image gallery on most product pages. You can also find these dimensions in the description below. Please check and verify this description and technical drawing before purchasing.
Specifications:
Extract every ounce of cooling efficiency from Koyorad All Aluminum Performance Radiators with a genuine Koyorad Hyper Cap! This Koyorad Hyper Cap withstands an increased valve pressure rating of 1.3kgf/cm2 (1.3 bar) (18.9 psi) (130 kPa) which increases the boiling point of water and relieves high performance engines of excessive heat. A genuine Koyorad Hyper Cap is recommended for use with every Koyorad All Aluminum Performance Radiator (when applicable). This Koyorad Hyper Cap is manufactured in Japan from high quality components to ensure longevity and performance from your Koyorad Racing radiator
Additional Info
Tags
Shipping
We work with DHL Logistics for all our shipments and offer competitive rates to any address. The list below gives you an indication of the shipping rate to your country.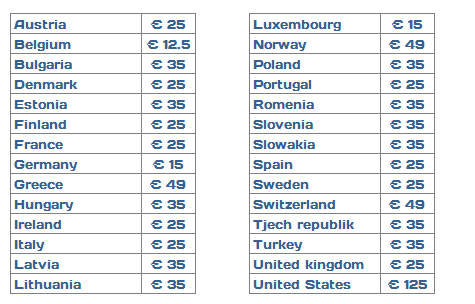 You can calculate your exact shipping rate on the 'shopping cart' page. Very often we also offer FREE SHIPPING if your order is above a certain amount. After shipping you always get online DHL 'track & trace' information for your order